Hawaii aquaculture sales reach record high, with microalgae leading the way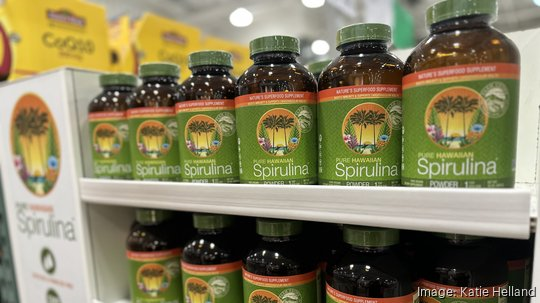 Cyanotech, a microalgae company, sells supplements such as Hawaiian Spirulina.
Katie Helland
By Katie Helland – Reporter
September 26, 2023, 01:23pm HST
Aquaculture sales in Hawaii reached a record high of $89.6 million in 2022, up 12% from $79.67 million in 2021, according to a report from the U.S. Department of Agriculture's National Agricultural Statistics Service released on Friday, Sept. 22.
The USDA describes aquaculture as including fish, shellfish and aquatic plants. In 2022, more than half — or 51% — of aquaculture revenue across the state came from algae, according to the report. That category alone contributed $45.4 million in sales statewide. Most of those sales came from a single company: Cyanotech.
"Because consumers are looking for more ways to pack nutrients and functional health into their diet, it makes a really great space for microalgae," Collette Kakuk, Cyanotech's chief strategic and commercial officer, told Pacific Business News. "Consumers are also caring a lot more about sustainability. And we've been growing microalgae sustainably in Hawaii for 40 years, as well."
The Hawaii Island-based company grows and processes microalgae on 96 acres in Kailua-Kona. Its health supplements — BioAstin Hawaiian Astaxanthin and Hawaiian Spirulina —are sold across the nation. In 2022, Cyanotech had net sales of almost $36 million for both products, up from $32.35 million the previous year, according to the company's annual report.
The USDA report shared that the aquaculture industry across the state reached a peak of 416 workers in 2022, as reported by producers.